Heures visite bezoekuren visit
Date et horaires de visites ainsi que les modalités d'accès au musée.
(Version 3.1 - 30.Mars.2022)

Le musée est systématiquement ouvert chaque 2ème et 4ème dimanche du mois, à partir de 13h30 jusqu'à 18h00, sans réservation.
Exception faite des groupes de plus de 10 personnes, qui doivent réserver minimum 10 jours à l'avance.
Le musée peut également être ouvert le 1er dimanche du mois, mais uniquement sur réservation anticipative et disponibilité des guides.
De même, le musée peut être accessible en semaine aux groupes qui en font la demande de manière bien anticipative et en coordination avec nos responsables, pour les écoles par exemple.
Pour les groupes souhaitant visiter le Musée en dehors des dates d'ouverture de celui-ci, merci de compléter le formulaire que vous trouverez ci-après en format Word avec les coordonnées des participants.
Ne compléter que le tableau des données personnelles pour les visiteurs (page 2).
La première partie du formulaire (page 1) est réservée exclusivement aux services internes.
Formulaire à renvoyer, complété à l'adresse email [visite@1winghistoricalcentre.be], 10 jours avant la date de la visite.
L'accès aux bâtiments, parc et C-130 est fixé à 7€ par personne, gratuit pour les moins de 12 ans, nos membres cotisants, ainsi que pour les militaires actifs du 1Wing.
Les réservations se font soit
- Via email : visite@1winghistoricalcentre.be ou
- Tél : +32 (0) 474 19 92 76.
Règles COVID complémentaires :
- La réservation de votre visite n'est plus nécessaire (Excepté pour les groupes de plus de dix personnes)
- Le port du masque n'est plus obligatoire.
- Le Covid Safe Ticket (CST) n'est plus obligatoire.
- Les règles de distanciation restent d'application.
SVP ne pas toucher les matériels exposés
Nous n'avons pas de terminal bancaire.
Mededeling van 1Wing Historical Centre :Bezoekdata en -uren evenals de toegangsmodaliteiten van het museum: (Versie 3.1 - 30 March 2022)
Het museum is systematisch open iedere 2de en 4de zondag van de maand, vanaf 13h30 tot 18h00, zonder reservatie.
Uitgezonderd voor groepen van meer dan 10 personen, die minimaal 10 dagen op voorhand moeten reserveren.
Het museum kan ook geopend worden op 1ste zondag, mits reservatie en beschikbaarheid van onze gidsen.
Het museum is ook op eender welke dag toegankelijk voor groepen, mits anticipatieve aanvraag en voorbereidende coördinatie met onze verantwoordelijken, zoals voor scholen bij voorbeeld.
Het museum is ook op eender welke dag toegankelijk voor groepen, mits anticipatieve aanvraag en voorbereidende coördinatie met onze verantwoordelijken, zoals voor scholen bij voorbeeld.
Voor groepen die het museum buiten de openingsdata willen bezoeken, vult u het formulier in Word-formaat in met de contactgegevens van de deelnemers.
Vul alleen de tabel met persoonsgegevens van bezoekers in (pagina 2).
Het eerste deel van het formulier (pagina 1) is uitsluitend gereserveerd voor interne diensten.
Document moet worden ingevuld teruggestuurd naar het e-mailadres visite@1winghistoricalcentre.be, 10 dagen voor de datum van het bezoek.
De toegang tot de gebouwen, het park en de C-130, is vastgesteld op 7€ per persoon. Kinderen onder 12 gratis, voor onze betalende leden, en voor het actief militair personeel van de 1Wing.
Boeking :
- Per mail visite@1winghistoricalcentre.be of
- Tel : +32 (0) 474 19 92 76.
Bijkomende COVID regels:
- De reservering van uw bezoek wordt niet meer gevraagd. (Behalve voor groepen van meer dan 10 personen)
- Maskers zijn niet meer nodig.
- Het Covid Safe Ticket (CST) is niet meer vereist.
- Afstandsregels zijn nog steeds van toepassing.
We hebben geen bankterminal, die alleen contant betaalt AUB.
Raak de blootgestelde materialen niet aan AUB.
Date and time of visit and access modalities to the museum. (Version 3.1 - March 2022)
The 1WHC is systematically open the 2nd and 4th Sundays of each month, from 01:30 to 06:00 PM without reservation.
Except for the groups exceeding 10 persons, that will have to book their visit at least 10 days in advance.
The 1WHC can be open on the first Sunday of the month but only via an anticipated reservation and according to guides availability.
The same way, the 1WHC can be open during the week to the groups, as the schools for instance. They will have to reserve their visit in advance and in cooperation with the managers.
For groups wishing to visit the Museum outside its opening dates, please complete the form that you will find hereafter in Word format with the contact details of the participants.
Complete only the table of personal data for visitors (page 2).
The first part of the form (page 1) is reserved exclusively for internal services.
Document to be returned completed to the email address visite@1winghistoricalcentre.be,10 days before the date of the visit.
The access to the installations, park and C-130 is fixed to 7€ per person, free for children under 12, for all dues-paying members, and for the active military staff belonging to the 1Wing.
Booking
Reservations are made either
- Via email : visite@1winghistoricalcentre.be or
- Phone : +32 (0) 474 19 92 76.
COVID related rules:
- The booking of your visit is not requested anymore. (Except for the groups consisting of more than 10 persons)
- Wearing the mask is not anymore mandatory.
- The Covid Safe Ticket (CST) is not anymore required.
- Distancing rules still apply.
Please do not touch exposed materials
We do not have a banking terminal.
ADRESSE - ADRES - ADDRESS
First Wing Historical Centre Base Charles ROMAN
1Wing B-1320 BEAUVECHAIN
Access GPS : 50° 45' 22'' N // 04° 46' 54'' E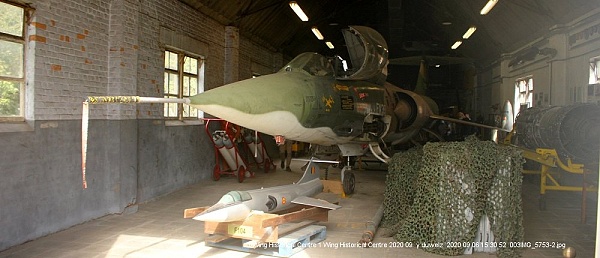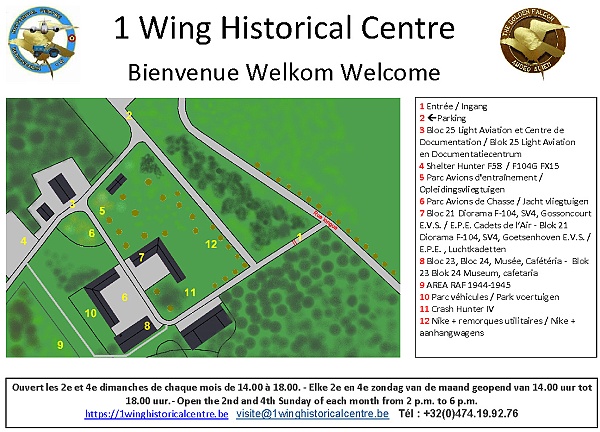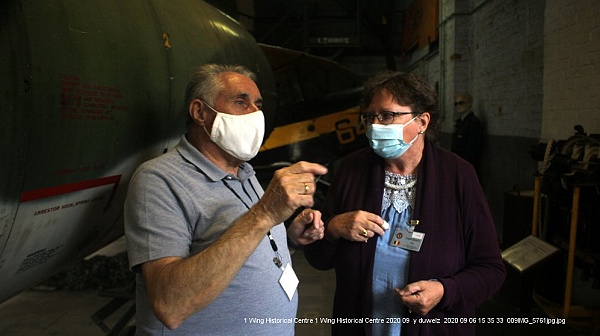 La plupard de nos guides ont travaillés sur les avions qu'ils vous ferront découvrir avec passion.
De meeste van onze gidsen hebben gewerkt aan de vliegtuigen die ze je zullen laten zien met passie.
Most of our guides have worked on the planes they will show you with passion.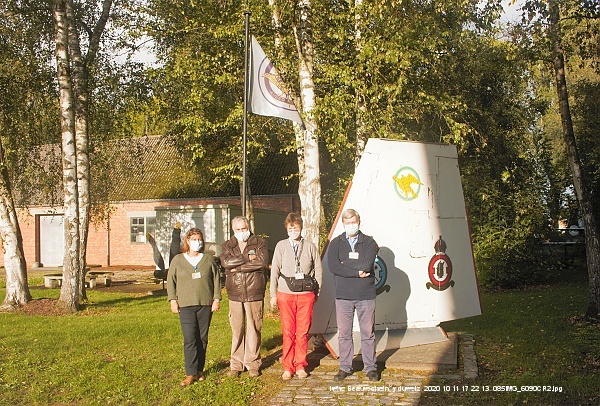 =======================================================
La réalisation du 1WHC est en grande partie l'œuvre de l'A.S.B.L. « The Golden Falcon » qui groupe les Anciens de la Base de Beauvechain.
De verwezenlijking en afwerhing van het 1WHC is in grote mate te danken aan de V.Z.W. "The Golden Falcon" die oudgedienden van de basis groepeert.
The 1WHC was founded by "The Golden Falcon" an association of Retired Airmen.
======================================
TGF « Comité de Rédaction »
Lay-out : J.Dewulf (12/2003)